What Is The Spiritual Zero Point Creation Field With The Light Body That We Are Moving Into?
By Diane Canfield
Blessings Everyone,
I talk about reaching zero point in many of my articles and YouTube videos. Many have asked me what zero point means. In quantum theory zero point relates to the vacuum state of particles.
I call this the baseline for all of creation. Some might think it's the empty state, yet it is anything but empty. Just because it can not be seen and is not widely understood, means nothing.
Ascension Zero Point We Are Entering 
Zero Point is the point of all creation. It is the point of everything and nothing at the same time. It is the point in meditation and times of intense BLISS waves that I am all of everything and yet also in the void of nothingness. I am floating in space yet experiencing everything all at once. I am in this state almost continuously psychically connected and tuning in.
This is the point Humanity is reaching through the Ascension process.
Ascension is raising one's consciousness to higher timelines of awareness. The timelines of Creation. The timeline of the Creator itself where there is everything and nothing at the same time.
Zero point is where everything is available for manifestation and nothing is impossible, all possibilities exist at once.
Zero point can ONLY exist in the moment of NOW. This means we exist where there is no past, no present and no future. We just are.
Zero point is where ONE TRUTH exists. To be able to access that TRUTH you must give up all false beliefs.
Zero Point is the same field that Alien races appear to me in person.
When you reach states of higher consciousness, you will be able to reach these states of nothingness and everything at once. Time slows down and seems to move at a snails pace.
This is where the Event of Ascension will Occur. When enough of us have reached that state and perfected it over and over again.
This is why I teach about this, to help others reach the ultimate spiritual goal of the highest awareness, where everything is possible.
The merging with the Creator into the Spiritual Zero Point Field to become complete Co-Creators. It is in this state we will ascend attaining Christ Consciousness with the LIGHT Body Intact.
Love Diane
Copyright © www.dianecanfield.com This article must be shared in whole and intact with the authors name and website. Copyright 2020 Diane Canfield All Rights reserved
source: www.dianecanfield.com/what-is-the-spiritual-zero-point-creation-field-with-the-light-body
If you order any product on Amazon through the following links the proceeds will go towards the Ecuador healing retreat center.
Sri and Kira
The life of your DREAMS IS THE "REALITY" YOU ARE READY TO CLAIM!
THIS IS A VERY SPECIAL MOMENT!
As the uplevel energy of our FIRST Illuminated New Moon within our FIRST Mercury Retrograde of the two year Ascension uplevel arrives, so does the GIFT
of being able to honestly break free and LIVE A BS FREE LIFE!
How is the Uplevel Illumination of the Mercury Retrograde treating you so far?
Ready to create the LIFE OF YOUR DREAMS with the SUPPORT of the UNIVERSE?
WE ARE! And we know that you are too!
Invite your direct connection with the universe to fully open and ILLUMINATE your vision!
Consciousness IS the GATEWAY…
Imagine your Consciousness as the Gateway to true healing and dream manifestation!
source: https://sriandkira.com/yoga-of-self-ascension
THE BLUE LIGHT ON EARTH…Right now, Earth is being saturated in the blue vibration. It's coming in from way beyond our solar system. We're being helped by The Angelic Realm with the global heart opening – which remains underway (and will be for some time). I began consciously connecting with this blue healing ray yesterday. Have you felt it too? Is the colour blue calling to you?
The Blue vibration is cooling and soothes the over-acidity which has stirred on our planet since January. Feel the blue vibration bathe and re-balance your cells. It uplifts 💎 PASS this post on ( S H A R E ) with those it can assist…
I'm reminded that last Thursday, I chose to theme the current issue of The Tip-Off around 'Fresh Starts', as a re-patterning begins. Do you remember? I also spoke about it in my LIVE video. And I chose blue as the incoming colour on this week's cover art. On cue, it's all coming to pass. I love it! How are the forecasts assisting you this week? 🔮
Gene Key 37
Tenderness – Equality – Weakness
Feb 25 through Mar 01 2020
Gene Keys: Unlocking the Higher Purpose Hidden in Your DNA – by Richard Rudd – https://amzn.to/2KRJTTr
"The mother is also the place of infinite Tenderness where all members of the family can return to rest and remember their essence and purpose. More even than a single person, the mother is a feeling of safety and trust that allows all human beings to excel. The 37th Siddhi speaks into this great mystery of the mother essence.
Tenderness is a collective fire, engendered through mutual compassion, fanned by the winds of Grace and carrying the transformative power of Truth."
– Excerpt from The 64 Ways
Magical Hologenetic Gene Keys Geometry
SIDDHI: Tenderness (37) is Clarity (57) of Rapture (30) 
GIFT: Equality (37) is Intuitive (57) Lightness (30) 
SHADOW: Weakness (37) is the Unease (57) of Desire (30)
This week Gene Keys  37, 57 and 30 interwoven.
"Through the 37th Gift, humanity will come to see that it is the family that makes all human beings equal. We will find a new vision of family, both locally and globally, and we will in time extend this vision to encompass the entire human family."
Gene Keys: Unlocking the Higher Purpose Hidden in Your DNA:
Kin 228 – Yellow Resonant Star
'Resonant' is the name for the number 7 and it's key words are 'Attune, Inspire and Channel'. The seventh day is all about adjusting your frequency, tuning yourself in so you may receive wisdom from the universe. We are now right bang in the middle of the White Wind wavespell, so a good time to ponder what you've experienced thus far and attune so you may understand what steps to take next.
Today is `Yellow Star` which represents 'Beauty, Art and Elegance'. Yellow Star days are great for appreciating art and beauty. Open your eyes, you can see it everywhere. Take time out from the daily grind and see the world for the magical place that it is. When you combine the meaning of the number and day the result is 'channel beauty' or 'attune to elegance'. To summarize; Its not rocket science understanding what today is all about…celebrate beauty and allow your beautiful intuitive thoughts inspire you. Create some art and make listening to your inner voice an art form.
Today's Guide is Yellow Sun which represents 'Universal fire,Life and Enlightenment'. The search for enlightenment is a never-ending quest and a day guided by this energy will influence your actions. Look for revelations and they will come to you.
The Challenge of the day is White Mirror, which represents truth, so look out for lies or misleading information. If you are a White Mirror your issues may surface today, try to think of art and indulge in a little elegance to help you through the day.
The Occult power is the Red Skywalker, the adventurer of the Tzolkin. Skywalkers are great at 'thinking outside the box' and they also can have a very deep and magical appreciation of art. Jimmy Hendrix was a Skywalker and not only did he experiment with music, he also was a very stylish dresser. Be adventurous with beauty is the message here. Experiment and be bold.
The Ally is the cheeky Blue Monkey. If you are lucky enough to know one, they can be very helpful today in dealing with the challenges. If you are a Blue Monkey, you are a great friend to have around offering support and advice.
ATTUNING TO BEAUTY🌹🌹🌹
YELLOW RESONANT STAR – 7 LAMAT – KIN 228
25 FEBRUARY 2020
✨🎆🌞🌟💫💐✨🎆🌞🌟💫💐
MANTRA
I channel in order to Beautify
Inspiring Art
I seal the store of Elegance
With the Resonant tone of Attunement
I AM guided by the power of Universal Fire.
✨🎆🌞🌟💫💐✨🎆🌞🌟💫💐
TODAY'S CHALLENGE!!! 🍥🍥🍥
In order to create a BEAUTIFUL reality – we must FOCUS on BEAUTY🌹, JOY🌞, ABUNDANCE,🍇 COMPASSION💕 ,PEACE🕊 and GRATITUDE🙏
…energy flows where our attention goes!!
Today is an extremely potent day to FOCUS on LOVE and BEAUTY in order to multiply this x 5 in your reality… so your task for today is to
🎆🌟ATTUNE to POSITIVITY!!🌟🎆
You are required to FOCUS on COMPLIMENTING💋 everyone, with whom you interact today… fill your day with JOY – look for the BEAUTY and GOOD things that surround you and give GRATITUDE for everything you experience …for the ENTIRE DAY!!
If any negativity tries to SNEAK in – IGNORE IT, brush it aside, and turn your attention to what is WONDERFUL!! (Change your dial!)📻
ABSOLUTELY 🚫NO COMPLAINTS ALLOWED🚫
So switch your dial – to sweet💋 talk!
SMILE 😊at everyone you encounter and
seek the DIVINE essence in their vessel – In Lak'ech a la kin – I AM ANOTHER OF YOU – we are all DIVINE souls incarnate, sharing this grand adventure –
so acknowledge and ATTUNE to this fact…
CHANGE YOUR FOCUS to CREATE your BEAUTIFUL NEW REALITY…. 💕🌹🌈🌏
🎆✨🎆✨🎆✨🎆✨🎆✨🎆✨
SHINE BRIGHTLY precious StarSeeds.🌟🎆
🐬🌈 ❤🐬🌈❤🐬🌈❤🐬🌈❤
Divine blessings for experiencing yourself through the DIVINE today! 💕💕💕
Namaste' 🙏❤🙏❤🙏
In Lak'ech a la kin
Christina White Magnetic Worldbridger – KIN 66 🌏🌈
PICTURE CREDITS: Beautiful World DIVINE GRATITUDE to Unknown Artist 🙏❤🙏❤🙏
YELLOW RESONANT STAR – 7 LAMAT – KIN 228
25 FEBRUARY 2020
✨🎆🌞🌟💫💐✨🎆🌞🌟💫💐
ATTUNING TO BEAUTY🌹🌹🌹
MANTRA
I channel in order to Beautify
Inspiring Art
I seal the store of Elegance
With the Resonant tone of Attunement
I AM guided by the power of Universal Fire.
✨🎆🌞🌟💫💐✨🎆🌞🌟💫💐
25/2/2020 = 7/2/4 = 13 = 4
25 – Spiritual wisdom/Learning from the past
7 – Majik, Mystic, Spirituality/Solitude
13- Goddess/Cosmos/Natural Lore
4- Earth/Foundation/Form/Angelic
KIN 228 = 12= 3 Trinity/Joy/Creativity
Another BEAUTY filled day, focused on building a foundation of LOVE, PEACE, grace, elegance and compassion.
🌬🍃⛵🕊🌬🍃⛵🕊🌬🍃⛵🕊
Today is Day 7 in the wavespell of IK (pronounced eesh) – the WHITE WIND who holds the power of Spirit and communication …. where we are becoming hollow vessels for Spirit to communicate and operate through our being. Today we are ATTUNING to BEAUTY, grace, and elegance – channelling Spirit and experiencing the world through the eyes of Spirit…appreciating this beautiful, abundant New World which we call home!🌈🌏
TONE OF CREATION
RESONANT – Tone 7 in the EMOTIONAL realm. ACTION – inspires, POWER – channels, ESSENCE – attunement.
Today we are supersensitive as we are attuned through our senses – the emotional "feeling" body. As we tune in through the lens of Spirit… channelling Heaven's perspective of our perfected Reality. What does GRACE, BEAUTY, ELEGANCE look and FEEL like…, we sense the resonance and can determine whether we are aligned with that frequency. So tune in and FEEL what your body is sensing, try on the Rose🌹 coloured glasses 👓– does it INSPIRE and EXCITE you? In order to accomplish it, you must be attuned to its frequency through this present moment. This energy facilitates a lovely Divine flow by attuning and channeling Spirit to be expressed through your creativity. You can also receive your inspiration to attune to SERVICE in order to make the day/life of others more joyful and pleasant. Number 7 is also the frequency of the Mystic and the Magician giving you the MAJIK to channel more BRILLIANT inspiring creations. So what CHANNEL are you ATTUNED to today? 📺
✨🎆🌞🌟💫💐✨🎆🌞🌟💫💐
CONSCIOUS SELF: YELLOW STAR 🌟 – LAMAT – BEAUTY, ELEGANCE and GRACE are the qualities of the YELLOW STAR. The YELLOW STAR tribe hail from Venus and so today's focus is on LOVE, beauty, joy, creativity and bliss filled expression…BOTH the Sun and the moon MEET up 💕in dreamy PISCES today, as well as Mercury (retro) and Neptune – so we have a SUPER STELLIUM line-up for DIVINE, UNCONDITIONAL – deep Spiritual LOVE!! Romantic LOVE IS IN THE AIR X5 ❤❤❤❤❤ (Just be AWARE that you do not get lost today in a FANTASY or illusion).
LAMAT and Pisces go together like a hand in a delicate silk glove of Audrey Hepburn… Lamat's qualities are beauty, grace, love, diplomacy, gentleness, PEACE and artistic expression. The YELLOW STAR ignites your creativity and unleashes your store house of energy within your solar plexus chakra. The YELLOW STAR is a brilliant vehicle for the expression of Spirit through the WHITE WIND wavespell. The most potent FORCE in the Universe is Divine Unconditional LOVE so become a hollow bamboo today and allow these exquisite codes to flow through your being, uplifing all who enter your space.
LAMAT is also a PORTAL to ABUNDANCE🍇🍉🍎 – so OPEN your channel to receive all that is bountiful and soul-fulfilling today… ATTUNE to prosperity consciousness knowing that everything we need is right here, right NOW, in this present moment – a beautiful GIFT from Spirit. Allow Spirit to flow through your vessel, expressing your day as ART – singing, dancing and creating. All this beautiful energy will lead you to harmony within yourself and your outer reflection – SHINE BRIGHTLY precious StarSeeds.🌟🎆
🎆✨🎆✨🎆✨🎆✨🎆✨🎆✨
TODAY'S CHALLENGE!!! 🍥🍥🍥
In order to create a BEAUTIFUL reality – we must FOCUS on BEAUTY🌹, JOY🌞, ABUNDANCE,🍇 COMPASSION💕,PEACE🕊 and GRATITUDE🙏…energy flows where our attention goes!! Today is an extremely potent day to FOCUS on LOVE and BEAUTY in order to multiply this x 5 in your reality… so your task for today is to
🎆🌟ATTUNE to POSITIVITY!!🌟🎆
You are required to FOCUS on COMPLIMENTING💋 everyone, with whom you interact with today… fill your day with JOY – look for the BEAUTY and GOOD things that surround you and give GRATITUDE for everything you experience …for the ENTIRE DAY!!
If any negativity tries to SNEAK in – IGNORE IT, brush it aside, and turn your attention to what is WONDERFUL!! (Change your dial!)📻
ABSOLUTELY 🚫NO COMPLAINTS ALLOWED🚫 – so switch your dial – to sweet💋 talk! SMILE 😊at everyone you encounter and seek the DIVINE essence in their vessel – In Lak'ech a la kin – I AM ANOTHER OF YOU – we are all DIVINE souls incarnate, sharing this grand adventure – so acknowledge and ATTUNE to this fact…
CHANGE YOUR FOCUS to CREATE your BEAUTIFUL NEW REALITY…. 💕🌹🌈🌏
🎆✨🎆✨🎆✨🎆✨🎆✨🎆✨
HIGHER SELF/GUIDE: YELLOW SUN 🌞AHAU – shines MORE beautiful LIGHT upon us today – giving us the joy and optimism of AWAKENING🌅 to a beautiful SUNNY DAY! What a marvellous duo! LAMAT and AHAU bless us with their grace and fill our being with enthusiasm and a joie de vivre! Our life force is heightened as we experience a renewed PASSION for life! The Universal Fire sparks your creative brilliance and brings sunny optimism and faith that our world IS getting LIGHTER and BRIGHTER each and every day. AHAU also AWAKENS us to a higher divine existance – illuminating our hearts and minds so that we can exist from a higher more enlightened state of consciousness – living our lives through the MIND of Spirit.
SUPPORT: BLUE MONKEY🐒CHUEN – MAJIK & PLAY. The BLUE MONKEY is the perfect trifecta for LAMAT and AHAU bringing forth much merriment and play. The Divine Child has that majik spark within your soul that just wants to run, jump, explore and LOVE everyone and everything exuberantly. The BLUE MONKEY loves to sing, dance and make people laugh so embrace the MONKEY and immerse yourself in this GAME. Make every task about FUN! Ask yourself "How can I fill my day with more JOY, LOVE and LAUGHTER?".
OCCULT/HIDDEN POWER: RED SKYWALKER ☁🚶BEN = EXPLORE SPACE and freedom to roam. Another lovely adjunct to today's tapestry. The SKYWALKER beautifully exemplifies the BLUE MONKEY'S thirst for freedom. The Divine Child loves to explore and expand its wings to fly freely throughout space. SKYWALKER brings forth expansiveness reminding you that your soul is always FREE and that there are no limits through which you can express your divine essence. BEN is also the Divine conduit bridging HEAVEN and EARTH – so allow Spirit to flow through you, anchoring this DIVINE BLISS ON EARTH! HEAVEN is a place called – NEW EARTH! 🌈🌏🌈
CHALLENGE/GIFT: WHITE MIRROR🔎 ETZNAB – REFLECTS ENDLESSNESS. The WHITE MIRROR magnifies energy, thus you can get trapped in delusion or illusion, daydreaming your life away through escapism, distraction and addictions, or you can BREAK FREE from the delusion. Your PERCEPTION of reality may be tested today – NEPTUNE the planet of illusion and fantasy is exalted in it's home sign of Pisces – meaning it is SUPER POWERFUL – so WAKE UP from the false DREAM – the Artifical Matrix – and ATTUNE to Natural time and the wondrous NEW world we are birthing… are you addicted to false superficial LOVE and mindless distractions to numb the pain of actually FEELING and fully embodying your Divine essence?… Disconnect from all that is FALSE and ATTUNE to the Divine. Claim the blessing of WHITE MIRROR to endlessly reflect the beautiful world you are creating. There is an endless source of power, creativity, joy and happiness that flows through you. An infinite supply of SOURCE energy that you as a Divine child of GOD are permanently and irrevocably connected to, no matter where in the Universe your choose to roam!
Today is the day to let out your Inner Child to PLAY, PLAY, PLAY!!! It is time to SPARKLE and spread the LOVE, JOY and HOPE throughout your Divine ROMANTIC play day! SHARE THE LOVE! ❤❤❤❤❤
❓❓❓❓❓❓❓❓❓
Today's question is "How can I ATTUNE to BEAUTY🌹, GRACE🕊 and LOVE ❤– channeling Spirit and creativity to express through my vessel. experiencing my BEAUTIFUL LIFE as ART? 🎨🌈🌏
🐬🌈 ❤🐬🌈❤🐬🌈❤🐬🌈❤
Divine blessings for experiencing yourself as pure unconditional DIVINE endless LOVE today! 💕💕💕
Namaste' 🙏❤🙏❤🙏
In Lak'ech a la kin
Christina White Magnetic Worldbridger – KIN 66 🌏🌈
PICTURE CREDITS: Eternal Love – Radha and Krishna Artist – Nikhil Sha DIVINE GRATITUDE 🙏❤🙏❤🙏
If you order any product on Amazon through the following links the proceeds will go towards the Ecuador healing retreat center.
DISCLAIMER: This page contains affiliate links, which means that if you click on one of the product links, I'll receive a small commission. This helps support this website and allows us to continue to make content like this. Thank you for the support!
"According to the "Fair Use" clause of International Copyright Law, the authors declare that the use of the photos, videos and information in this academic research are analyzed for purposes of "criticism, comment, news reporting, teaching, scholarship, or research" according to Section 107 of Title 17 of the US Code."
SUPERNOVA 1987A QUETZALCOATL: 33 YEARS OF A LIVING PROPHECY
February 24, 2020 marks the prophetic Master Milestone of 33 YEARS since the discovery of SN1987A "Quetzalcoatl," the brightest extragalactic supernova ever recorded on Earth.
This celestial event was the confirmation of the Quetzalcoatl Prophecy of the Thirteen Heavens and Nine Hells (Underworlds), brought forth by American author, Tony Shearer.
This prophecy was embraced by José and Lloydine Argüelles, who organized the Harmonic Convergence of 1987, the first synchronised global meditation on Earth and August 16-17, 1987 to commemorate its fulfillment.
Why is this relevant now?
2020 marks 33 YEARS from this groundbreaking event recorded in human history, so this 33-YEAR harmonic milestone from the discovery of this supernova explosion and the arrival of its first rays of light, brings us today a harmonic window of opportunity to shed some of this light on our collective memory to re-member the importance of this cosmic event and re-establish its synchronic and prophetic significance.
---
ENTERING THE 2.24 TIME PORTAL
Every year, this cosmic explosion serves to highlight this day as one KEY TIME PORTAL of special relevance throughout the modern history of civilization… How is this?
The prophetic occult significance of the February 24 date as a "Time Portal" is precisely rooted in the date of the Gregorian calendar reform of 1582, signed by Pope Gregory XIII on a day like today, on the Julian calendar, 438 years in the past:
Considering that:
1. The Gregorian Reform of 1582 introduced the "Leap Year Rule" or "Intercalary Day Rule"…
2. 2020 is a "Leap Year",
3. February 28, 2020 will mark a prophetic cycle of 7 YEARS since the day that Pope Ratzinger stepped down… and…
4. On February 29, 2020 we will experience the "Leap Day anomaly"…
… TODAY is a perfect opportunity to dive deep into the ocean of TIME and comprehend the transcendental nature of the window comprised between February 24 to 29, 2020. Let's examine it in more detail:
2.24: A DATE ENSHROUDED IN CONFUSION AND MYSTERY
In the same way as the Julian calendar precedes the Gregorian Calendar, the Roman calendar precedes the Julian, and the day February 24 used to mark the LAST DAY (OMEGA Point) of the Roman year. This may be the reason why the papal bull was ALSO signed on February 24, 1582 (Julian calendar).  According to Wikipedia:
"For superstitious reasons, when the Romans began to intercalate to bring their calendar into line with the solar year, they chose not to place their extra month of Mercedonius* after February but within it.  February 24—known in the Roman calendar as "the sixth day before the Kalends of March"—was replaced by the first day of this month since it followed Terminalia, the festival of the Roman god of boundaries. After the end of Mercedonius, the rest of the days of February were observed and the new year began with the first day of March. The overlaid religious festivals of February were so complicated that Julius Caesar opted not to change it at all during his 46 bc calendar reform. The extra day of his system's leap years were located in the same place as the old intercalary month but he opted to ignore it as a date. Instead, the sixth day before the Kalends of March was simply said to last for 48 hours and all the other days continued to bear their original names. (The Roman practice of inclusive counting initially caused the priests in charge of the calendar to add the extra hours every three years instead of every four and Augustus was obliged to omit them for a span of decades until the system was back to where it should have been.) When the extra hours finally began to be reckoned as two separate days instead of a doubled sixth ("bissextile") one, the leap day was still taken to be the one following hard on the February 23 Terminalia. Although February 29 has been popularly understood as the leap day of leap years since the beginning of sequential reckoning of the days of months in the late Middle Ages, in Britain and most other countries, no formal replacement of February 24 as the leap day of the Julian and Gregorian calendars has occurred."
* "Mercedonius was the intercalary month of the Roman calendar. The resulting leap year was either 377 or 378 days long. It theoretically occurred every two (or occasionally three) years, but was sometimes avoided or employed by the Roman pontiffs for political reasons regardless of the state of the solar year. Mercedonius was eliminated by Julius Caesar when he introduced the Julian calendar in 46 BC."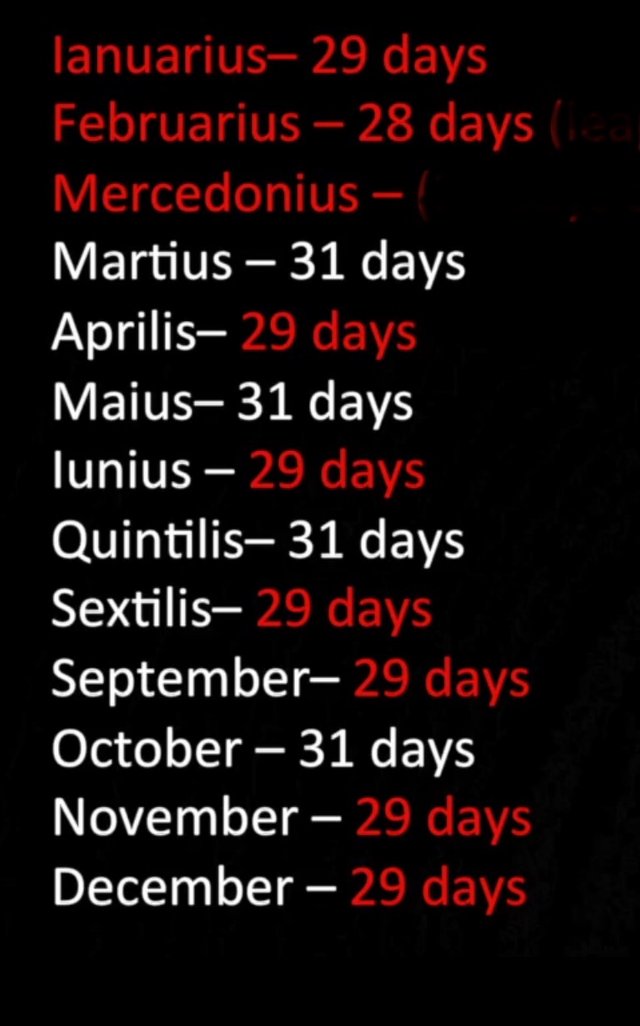 "This month, instituted according to Roman tradition by Numa Pompilius, was supposed to be inserted every two or three years to align the conventional 355-day Roman year with the solar year.
The decision of whether to insert the intercalary month was made by the pontifex maximus, supposedly based on observations to ensure the best possible correspondence with the seasons. Unfortunately the pontifex maximus, who would normally be an active politician, often manipulated the decision to allow friends to stay in office longer or force enemies out early. Such unpredictable intercalation meant that dates following the month of Februarius could not be known in advance, and further to this, Roman citizens living outside Rome would often not know the current date."
As we appreciate the date February 24 is anchored
Interestingly enough February 24 (2.24) was until the calendar reform considered a leap day and it was just until 2.24.1996 when last reforms in the European Union were made…
223 DAYS FROM CONCEPTION TO EXECUTION
The Gregorian reform was introduced on 2.24.1582 but it only started to be enforced on October 4, 1582 (Julian count), EXACTLY 223 (222+1) days after the papal bull was signed. The obscure reasons behind implementing this radical shift of eliminating 10 days from the month of October, without synchronizing it with the start of the year, the start of the month nor the start of the week are still a mystery…
It is also a mystery that since the Gregorian Calendar Reform of 2.24.1582, other historic events of modern history have been taking place on this date enshrouded in secrecy, adding layers to its occult significance:
2/24/1920  – (338 years from the Gregorian calendar Reform) – The Nazi Party is founded.
2/24/1942 – (350 years from the Gregorian calendar Reform)  –The Battle of Los Angeles, one of the largest documented UFO sightings in history; the event lasted into the early hours of February 25.
2/24/1987   – (405 years from the Gregorian calendar Reform) : Discovery of SuperNova 1987A Quetzalcoatl.
2/24/1996 – (414 years from the Gregorian calendar Reform) The last occurrence of February 24 as a leap day takes place in the European Union and for the Roman Catholic Church.
2/24/2015: – (433 years from the Gregorian calendar Reform) Completion of 28-YEAR wave harmonic since the discovery of SN1987A Quetzalcoatl on KIN 222 1Wind…
PROPHETIC RIPPLES IN TIME…
EXACTLY 5 years ago, the 28-YEAR wave harmonic of light of this explosion arrived precisely on KIN 222 1 Wind, synchronizing with the completion of 124 Tzolkins of 260 days each since the birth of Tony Shearer, the author of the book "Lord of the Dawn" and the "voice of Spirit" behind this prophecy…
Now, 7 Tzolkins later, we are now transiting once again the Wind wavespell of Spirit that started on KIN 222 (Shearer's galactic return number 131), last February 19, 2020, just one day before the 20.02.2020 Time Portal.
From the perspective of Fractal Time, the completion Shearer's 131st galactic return represents also a milestone of deep harmonic significance. How is this?
It was Tony Shearer who first introduced the 13:20 permutation matrix to José Arguelles back in the early 70´s…
… Therefore we just completed a perfect half of a 260-Unit Matrix board, where each Unit corresponds to 1 Tzolkin Matrix of 260 days each (instead to 1 Kin), and within this Fractal 13:20 Matrix comprised of 260 Tzolkins, Unit 131 is located at the heart of Harmonic 33 of the 13:20 Harmonic Module and marks the start of the second perfect set of 130 units to complete 260 cycles of 260 days each.

2.24: PORTAL OF HARMONIC RESONANCE
February 24, marks the 55th day of the year and since 2020 is a leap year, 311 days remain until the end of the year. This is of VERY SPECIAL significance considering the following numerical and chronological factors:
55 corresponds to the 10th stage of the Fibonacci sequence. The 55th day of the Gregorian year is also analog of Kin 55: Blue Electric Eagle, gateway portal of the Harmonic Convergence of August 16, 1987
The date February 24, is also noted as 2.24 and marks 311 days to end the year
The date April 22, is also noted as 22.4 and corresponds to the 113th day of the year on leap years.
We can appreciate 2 powerful numerical mirror correlations: 2.24 : 4.22 and 311 : 113.
As the mirror reflection of 2.24, the date 4.22 also reveals multiple layers of prophetic resonance:
4/22/1519: Fall of Maya and MesoAmerican cultures. Cortez ships land in Mexico ("False" Return of Quetzalcoatl). First day of the 9 hells of 52 years. 9 hells end August 16/1987 with Harmonic Convergence.
4/22/2010: Earth Day. Fall of Deep Water Horizon in the Gulf of Mexico.
4/22/2012: Earth Day. Fall of meteorite/seed on KIN 224 3Seed.
THE QUETZALCOATL 224:422 CODE
This mysterious code started to be revealed on April 22, 2012 (4.22.2012) KIN 224 3Seed. On this precise day (113th Day of the Gregorian calendar and EARTH Day) was reported the fall of a large meteorite that was found to contain some of the oldest material in the solar system.
The prophetic attributes of this code were examined in detail and presented in 2014 as the 9th SIGN OF A LIVING PROPHECY on PART III of the"Quetzalcoatl bites his/her tail" Reports Series. At the time we noted:
"This coalescence of prophetic codes, leaves us once again, after 28 years, at the beginning of the Prophecy of Quetzalcoatl, with the 222 code of prophecy:
Tony Shearer and his book Lord of the Dawn: The original seed of the Harmonic Convergence of 1987.
In the Traditional Maya Count July 26th, 2014, first day of the 13Moon/Dreamspell Count corresponded to 1Ik (KIN 222 1Wind).

KIN222 1Wind codes then this entire 9Moon Year, from head to tail as the 1st Moon of the year and as the energetic Frequency Signature of the whole 13-Moon Planetary Service Wavespell. Also as the equivalent/analog TRADITIONAL MAYA Count marker for the GALACTIC MAYA Year-Bearer. The Feathered Serpent bites her tail once again."
KIN 222 is also the perfect mirror of KIN 22 on the 13:20 Tzolkin Matrix.
KIN 22 represents the prophetic sum between 13 Heavens + 9 Underworlds = 22. Kin 22, otherwise known as 9 Ik, Bolon Ik (Solar Wind), is the birth sign of the main deity of Palenque and the Classic Maya, scientifically known as GI (God I). Precisely, during the Mesoamerican Post-Classic Period, the same Maya Tzolkin day of 9 Ik (Solar Wind, Kin 22) became associated with a new deity known as "Quetzalcoatl" for the Mexica people or as "Kukulkan" for the Maya people. This Post-Classic deity was also born on day 9 Ehecatl (9 Wind in Mexica language, Kin 22 in the Dreamspell).
As we know, Lloydine Bolon Ik`s birth date is also coded by Kin 22 in the Dreamspell Count, representing the anchor between the Galactic Maya "DreamTime" and the Ancient Maya "RealTime".
33: THE RESONANT CHANNEL OF PROPHECY
This 33-YEAR wave harmonic holds therefore a deep numerical significance, considering several prophetic factors. Let's examine them one by one:

➣ Number 33 plays a KEY role within the multiple spiritual streams of humanity.
➣ In classic numerology, the enigmatic Number 33 is referred to as the "Master Teacher" and it is associated with the Spiritual Evolution of humankind. The other two Master numbers are 11, which is related to "Vision," and 22 which refers to "Vision with Action".In numerology, these 3 Master numbers are the only multi-digits numbers that don't get reduced or simplified. They create what is known as the Triangle of Enlightenment, where 11 and 22 sit at the base of the triangle, and 33 sits at the top (11+22 = 33).
➣ The spine is the central "channel" of the Human body and is comprised of 33 vertebrae, matching the sum of the 13 joints and 20 fingers and toes that give us the ability to move. (13+20 = 33)
➣ Kin 33 is a PERFECT holographic container for the summoning power of the 13:20 Natural Time Frequency (13+20=33) as well as the creators of the Dreamspell Count: Jose Kin 11 + Lloydine Kin 22 = Kin 33
➣ Kin 33 Resonant Skywalker is coded with the Key Numbers of the Synchronic Order: Tone 7, Seal 13. The Skywalker (13) represents the Archetype of the Prophet.
➣ Following the 1 Kin = 1 Moon fractal count of 260 moons introduced by José and Lloydine on the "20 Tablets of the Law of Time" (1997), the 1 Wizard year corresponds to the 13-MOON planetary service wavespell of the Hand… Therefore the entire magnetic moon is coded by KIN 27 1 Hand. 27=3x3x3
➣ About every 3300 years, the Gregorian calendar accumulates one day of error with respect to the solar year. According Fourmilab calendar converter website, this is due to the fact that "the average length of a year in the Gregorian calendar is 365.2425 days compared to the actual solar tropical year (time from equinox to equinox) of 365.24219878 days."
We are currently transiting the 33rd solar orbit since the completion of the Quetzalcoatl Prophecy and the Day Out of Time of July 25, 2020 KIN 118 will mark the completion of 33 YEARS since the New Dispensation of Time.
This 2019-2020 transition window represents a threshold of KEY Harmonic Resonance considering that we are also closing and opening of KEY cycles..
We are closing:
The 7-YEAR prophetic cycle from crossing the Galactic Synchronization Event Horizon of 2013 (7.26.2013-7.26.2020)
The 8-YEAR Pentagonal cycle of Venus that started with the rare Venus Transit of 2012 (2012-2020)
The completion of 1328 YEARS from the prophetic Long Count date 9.13.0.0.0
We are also starting 3 cycles of KEY harmonic resonance:
A NEW 28-Year Telektonon cycle (2019-2047)
A NEW 13-Year Cycle of the White Wizard (2019-2032)
A NEW 8-Year Earth-Venus Pentagonal Cycle
The purpose of mapping these celestial and historic events from the past is to gain perspective over large periods of time and establish new sets of time coordinates and time intervals that, over time, generate compounding resonance, revealing potent combinations of celestial harmonics and event patterns. This is the case NOW.
This study is intended to provide a new evolving framework of multiple radial reference points to measure the synchronic harmonic relationships between events over periods larger than 1 solar ring. This is done with the ultimate purpose of gaining  greater insight on current and coming events on Earth.
ENTERING INTO RESONANCE WITH A BRIGHTER FUTURE:
These prophetic numerical messages are signaling us A GOLDEN OPPORTUNITY for the FINAL fulfillment of the Telektonon Prophecy, the final redemption of Babylon Planet and our return to Natural Time.To honor this initiatic passage into New Sirius Cycle 33, and the completion of 1328 years from the Prophetic Long Count date 9.13.0.0.0, a new educational initiative waS set in motion in 2016:
The 
Calendar Referendum 
2020
 educational campaign has as objective to reach a 
critical mass
 of humanity to adopt and implement the 
13-Month, 28-Day
 Calendar as a new Harmonic Standard by the end of this year 2020…
"The Universal Religion is the revelation of the correct measure of time and life in conscious mathematical detail. The Divine Plan is the redemption of time spent in Babylonian error. The Universal Religion is scientific according to the law of life governing the world systems. The Universal Religion is biospherically sound, noospherically creative. It is the fulfillment not only of the biosphere-noosphere transition, and the Thirteen Baktun Great Cycle of History, but of the entire 26,000-year cycle of human evolution. It is the fulfillment of science, art, prophecy, and religion realized as the Divine Plan on Earth. It is inescapable and immutable Divine Law, mandated by the Supreme Divine Source Itself: universal redemption, the end of time as we know it; entry into the fourth-dimensional Cube of the Law, the beginning of Heaven on Earth."
José Arguelles / Valum Votan
THE 20 TABLETS OF THE LAW OF TIME (1997)
SIXTEEN YEAR TELEKTONON CUBE OF THE LAW
BOOK OF UNIVERSAL LIFE
TO BE CONTINUED…
IN LAK' ECH
report submitted by:
113
[13.9]
on
NS1.32.8.18
KIN 227 6 Hand
Year of the White Magnetic Wizard
Galactic Maya Count
(DREAM TIME)
LC 13.0.7.5.1 12 Imix, 9 K'ayab
Ancestral Maya Count
(REAL TIME)
33 YEARS
from the discovery of
SuperNova 1987A
Quetzalcoatl
TIME IS ART!
. . . . . . . . . . . . .
source: tortuga1320.com/2020/02/24/supernova-1987a-quetzalcoatl-33-years-prophecy